U10 & U11 XC v LGS Stoneygate 5/11/21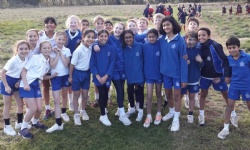 On a lovely autumn afternoon the cross-country squad travelled to LGS Stoneygate.
The squad showed determination and grit to produce some excellent runs across the LGS Stoneygate fields with the U10 girls and boys claiming the top 6 places and in the U11 age group both girls and boys taking 2nd and 3rd places.
Well done to everyone involved.