U9A Hockey & Rugby Festival at Witham Hall 6/11/21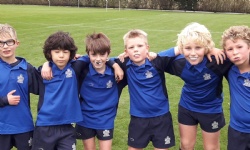 U9A Hockey Festival @ Witham Hall (Saturday)
A very excited squad of U9s played in their first ever sevens' tournament at Witham Hall! Following a quick team talk we were thrown straight into our first game against Laxton. We saw some great defending from Maqsooda however Laxton got a couple of goals from quick shots in the D.
The girls stayed positive and by our second match against Witham Bs, we'd found our feet. Some amazing runs by Phillipa down the wing set Eleanor for two awesome goals. Kirrily kept to the left side of the pitch which opened up space for her to run, and Iyla got a goal. The next three matches were back to back, but the girls pushed through and played so well. Special mention to Lucia for some excellent clearances in defence stopping the majority of Kimbolton's, Witham As and Stamford's goals.
Overall it was an excellent morning with some great hockey from every one on the team, well done girls!
U9A Rugby festival @ Withham Hall (Saturday)
One of the most rewarding Saturdays we've had of sport at school, with the As progressing as we went through the tournament. Philip started with incredibly agility and ball presentation to score many a try in the festival.
Zach demonstrated fast feet and managed to be our top tackler. Digby & enjoyed more direct lines of running, sucking in 2 defenders at a time. Danyal is carrying the ball beautifully in two hands and finding space forward. Ethan seemed to enjoy a full back position and organise the team defence. He was full of support the ball carrier when we had possession. An unbeaten festival for the As!