Book Fair 2019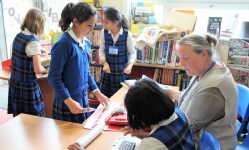 From 1st - 5th April children had the opportunity to view and purchase some wonderful new books as part of our annual Book Fair. The school will receive 60% of the total sales, this year reaching a record total of £3708.89p.
This is a great benefit to us as we can then buy some more books for our treasured library.
A great big thank you goes out to all parents and pupils who came along bought books and supported us throughout the week.
THANK YOU!