Copthill Cross Country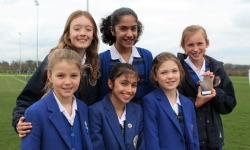 Runners from Leicester Grammar Junior School excelled themselves this month, at the Copthill Cross Country Competition.
On Monday 11th March, 24 pupils travelled to Copthill School to represent LGJS.
Many schools attended the event which saw the runners tackle a series of challenging obstacles, over undulating terrain, in blustery conditions.
P.E teacher Lucy Dowsett says; ' Our pupils demonstrated great determination from start to finish, pushing themselves to gain the best position they could in order to try and achieve a low combined score for the team competition. LGJS achieved a number of top 10 positions in fields of over 50 runners, with children finishing in the top 6 positions winning a medal to take home.
A special mention goes to Lucy Free, for pacing herself sensibly from the start of the U11 (2.1km) Girls race, gradually building on a significant lead and storming to victory! She was backed up by further strong performances from the rest of the team, and these positions meant the girls achieved 1st place team and were awarded a smart trophy for their efforts.'
Well done to all the children who took part - it was brilliant to see them supporting and encouraging one another during the event.