Online safety
As a parent or carer you play a key role in helping your child to stay safe online. There are many resources to support you as you support your child to use the internet safely, responsibility and positively. Click here for some useful resources and guides provided by the UK Safer Internet Centre.
The National Crime Agency's CEOP Education team aim to help protect children and young people aged 4 - 18 from online child sexual abuse. They achieve this through a comprehensive education programme that provides training, resources and information for parents and pupils. Click here to view their resources.
It is also a good idea to have regular conversations with your child about staying safe online. Here are some suggestions to begin a conversation:
Ask your child to tell you about the sites they like to visit and what they enjoy doing online.
What games do you and your friends like to play online?
An you show me the websites you visit most often?
Shall we play your favourite game online together?
Ask your child how they stay safe online
What tips do they have for you and where did they learn them?
What is OK and not OK to share?
Ask your child if they know where to go if they need help
Where can they go to find safety advice and privacy settings?
How do they report or block on the services they use?
If your child has experienced harmful content online, this flow chart may prove helpful: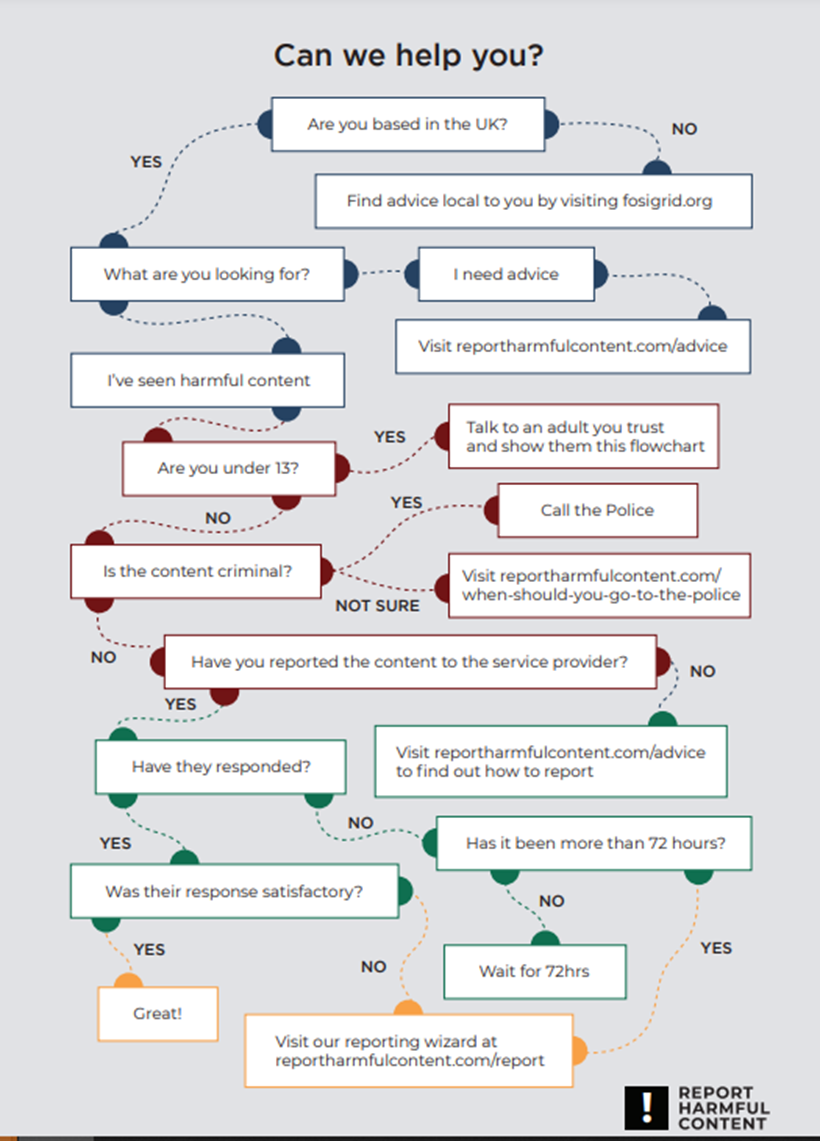 The report harmful content (RHC) button below offers a simple and convenient mechanism for gaining access to reporting routes for commonly used social networking sites, gaming platforms, apps and streaming services alongside trusted online safety advice, help and support. It also provides access to an online mechanism for reporting online harm to the RHC service. It can be used by anyone over the age of 13 where an initial report has been made to industry but no action has been taken. RHC will review content in line with a sites' community standards and act in a mediatory capacity where content goes against these.