LGJS Astronaut Training Day!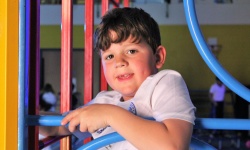 LGJS pupils were thrilled to take part in an astronomical Astronaut Training Day!
Arranged by Miss Dowsett to support the Rocket Round Leicester campaign, pupils took on the challenge with great excitement. Tackling various physical and mental tasks to receive the accolade of Leicester Grammar Junior Astronaut!
Climbing Martian Mountain, Astro Agility, Commander Crunches, Pilot Plank and The Venus Volcano were devised to test the strength, endurance, coordination and spatial awareness and provide pupils a taster of the fortitude needed to become a space adventurer!
The atmosphere created by Miss Dowsett and the P.E team was electrifying and children from all year groups thoroughly enjoyed thee day.
We'd like to say an enormous thank you to all of those who sponsored our pupils and have in turn supported the amazing work of LOROS, raising well over £8000!
We have been truly blown away by the generosity and support that has been received.
One small step for LGJS, one giant leap for LOROS!